Contact us today to see a selection of Bungalow designs that meet YOUR preferences as well as premium home sites in Treasure Lake that create the perfect, natural setting for your Bungalow. We can work with you, Rob Schweitzer (our color and design consultant), architects, builders, suppliers and craftsmen to build a Bungalow in your price range. (See "Favorite Links" Page of this Website).
Perfect Brian Eicholtz Design for your Retirement Bungalow
Need to make some changes to this design? No problem! Brian can help you make it YOUR perfect Bungalow.
USE AS A VACATION HOME NOW AND RETIRE LATER!!
Exterior
Main Level
Optional Lower Level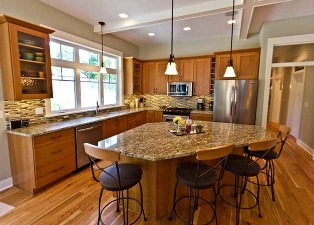 Kitchen Mud Room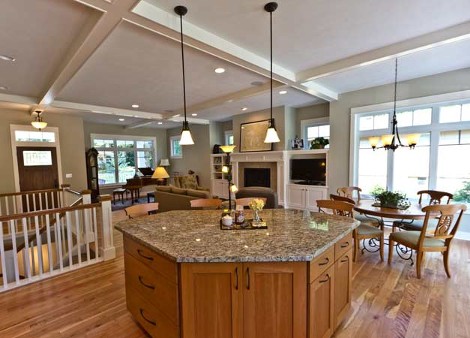 Open floor plan with lots of natural light
Bungalow's Features
1792 sq. ft. of Living Space Main Floor
964 sq. ft. of Optional Expanded Living Space Lower Level
Right-sized with Flexible Floor Plan and Expandable Space
77 ft. 4 in. Building Width; 46 ft. 10 in. Building Depth
2 Bedroom Suites
Main Floor Office
Open Floor Plan
1/2 Bath on Main Level
Open Stairway to Lower Level (lower level can be finished for additional living space)
Lots of Lower Level Storage
2-1/2 Car Garage (for extra storage)--Can be Expanded to Three-car Garage on this Recommended Lot
Covered Front Porch and Entry
Back Deck and Patio
Lake Bimini Beach Large Wooded Lot with Water, Sewer, Electric
Lot Features
100 ft. Wide Lot which Will Accommodate the Width of This Home
Beautiful Terrain for this Bungalow
Lot will Accommodate a Circular Driveway
Community Water and Sewage Already to the Lot
Plan Approved by Treasure Lake Property Committee
No Time Restrictions for Building
Quiet Area Near Lake Bimini Beach and Boat Launch
Choose Your Own Builder--I Can Introduce to You to Quality Builders
Lake Bimini is a 9.9 h.p. Lake with crystal clear, deep water that's great for swimming, sailing, canoeing and kayaking
Treasure Lake is a 379-acre power boat lake only 1/2 mile from lot Clay tennis courts only 3/4 mile from lot
Treasure Lake's award-winning PGA Gold Golf Course only minutes from this lot
(Treasure Lake hosted regional qualifer for U.S. Open on its Silver Golf Course)
Contact me today to learn more about this Brian Eicholtz Bungalow and in Treasure Lake Email me at buildabungalow@aol.com or call or text me at 814-933-9331.
A Build a Bungalow/Brian Eicholtz Design Perfect for Retirement or Vacations
The Lake Bungalow (great outdoor spaces)
The Lake Bungalow looks beautiful from all sides just as all great designs should. The exterior shake shingles add that beach or lake look accented by stone and wide columns. Enjoy lake views from the wrap-around porch, balconies off the upstairs bedrooms and the wonderful patio area with pergola and outdoor fireplace. The Lake Bungalow has 2078 sq. ft. of finished living space, three bedrooms, 2-1/2 baths, including a first floor Owner's bedroom suite, half bath, first-floor laundry, and open floor plan. An optional fourth bedroom and bath are possible on the same level as the oversized two-car garage adding 101 sq. ft. of living space that would make a great guest suite or private office.
Optional lower level bedroom and bath, office or this space could be used for storage
The Lake Bungalow is Perfect for this Year-round Lakeview Lot in Treasure Lake
This wooded lot has year-round views of Treasure Lake and is close to Trinidad Beach, award-winning Gold Golf Course and Treasure Lake's finest amenities. Community water, sewage, electric and natural gas are available to this lot, which is in a high-value area and also near Treasure Lake (379-acre power boat lake) boat launches and Marina with boat slips that rent for only $400 a year!
Treasure Lake Marina Near State Game Lands Entrance Little Flipper Lake for kids and "kids at heart"
Brian Eicholtz Efficient Bungalow Design
3 Bedroom, 2 Bath, 1340 sq. ft. 1-floor living Bungalow
Great efficient floor plan "right-sized" just for you
Build this Efficient Bungalow on a Well-located Walk-out, Daylight Basement Lot on a Quiet Cul de Sac near Lake Bimini in the Gated Community of Treasure Lake
Lake View Lot that Backs to Recreation Land (no one can build behind you)
Water, Sewage, Electric, Natural Gas to the lot
Property Survey
Award-winning PGA Gold Golf Course Club House is only minutes from this lot and near Treasure Lake's front gate and Towne Center
Ultimate Waterfront Bungalow Design
Choose this Award-winning Design by Brian Eicholtz
Nearly 3,000 Square Feet of Living Space on Two Floors but with One-floor Living Capability. If you need even more space, this lot accommodates a walk-out, daylight basement that you can finish for even more living space. Beautiful kitchen options with double wall ovens, solid surface countertops and quality cabinetry
Everything you could ever want in this luxurious 1-1/2 story Bungalow with nearly 3,000 sq. ft. of above ground space with additional expandable space in the lower level walk-out, daylight basement; four bedrooms that this lot provides, 3-1/2 baths, open floor plan, fireplace, large first-floor master bedroom and bath with dual sinks, large shower and separate tub, as well as huge walk-in closet; covered porches, deck with pergola; first-floor laundry and mud room--all within minutes of beautiful Lake Bimini and the award-winning Gold Golf Course!
Large Waterfront Lot with 75 ft. of Water Frontage and Dock is the Perfect Lot for this Striking Bungalow with Windows Placed Perfectly for Expansive Views of Lake Bimini
Lot View from the Road--This lot has community water, sewer, electric and natural gas already to the lot. The slope to the rear accommodates a walk-out, daylight basement. This is one of the last quality waterfront lots in a prime location of the gated community of Treasure Lake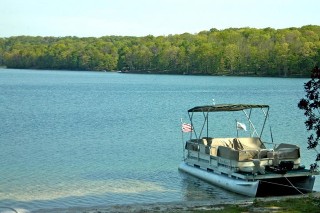 This lot is located near Lake Bimini Beach and Boat Launch as well as Dan Rawlings' Quarter Horses stables (sales, training & boarding)
Contact me if you would like to learn more about these designs by award-winning Designer Brian Eicholtz and these affordable lots in Treasure Lake. Email me at buildabungalow@aol.com or call/text me at 814-933-9331 and schedule your tour of Treasure Lake.
If you would like to see this and other Brian Eicholtz designs go to http://www.theredcottage.com. All Brian Eicholtz designs are copyrighted and cannot be copied or reproduced without permission from the Designer.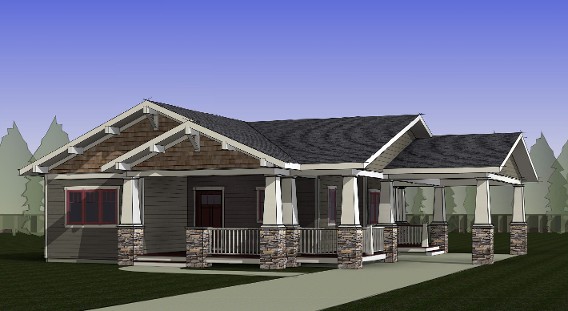 Bitty Bungalow is currently still being designed and would be the perfect small vacation or retirement home. More information will be coming regarding this new Build a Bungalow design with "Designs for Life" features.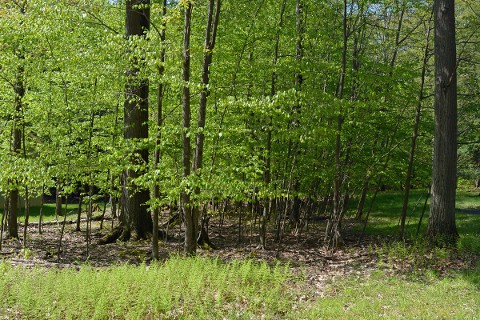 This Lot in Walking Distance to Providence Beach would be a great lot for Bitty Bungalow and is available for purchase now--Treasure Lake does not have time restrictions for building, so you can buy a lot now and build whenever. Plans are approved by a Treasure Lake Property Committee. You can choose your own builder, and I can introduce you to quality builders and help you through the building process. Minimum square footage is 800 sq. ft. on non-waterfront lots and 1,000 sq. ft. on waterfront lots.
.